Karnival Aalborg
is a three ay event which happens every year in Aalborg. It is the biggest carnival in north Europe and 25000 people participated in 2005. I came to Denmark on 2005 on the day of the carnival and have often joked to my colleagues that the people started singing dancing n drinking coz i had arrived. One year and the event happens again.

The first day is the Bourne Karnival (carnival for children) and I really don't have much to write about it.

The fun begins on the second day when there is a parade of the various bands through the streets of the city and they all collect at Kilder Parken where the 'War of the Bands' begins. Each band plays for about 10 minutes and then 5 bands are selected for the finals the next day. Then there was a 60 min performance by a guy called
SW Storm
. The music is fusion, reggae, rock, Indian/Bhangra.

The best feature of this day is def the bands competition coz next day u wont be seeing all of the on stage. Bands from far n wide take part in this event. Drum beats and those gorgeous ladies dancing to their beats.

The final day its a riot on the streets. I don't mean they literally riot, but the parade and the bands and the rest of the people dressed up as anything and everything just throng the streets, drinking beer n having a good time. The usual shenanigans like drunken brawls, people making out in the corners if they aren't yet wasted, topless girls et al were all there. Don't feel like writing more so just see the pics.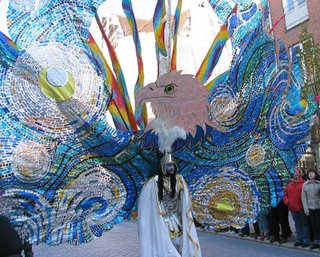 BTW, theme of this year was "Erotic & Exotic"